776 businesses listed in Jomtien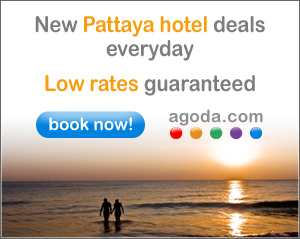 Nightlife
Restaurants
Things To Do
Where To Stay
Real Estate
Jomtien's nightlife is much cheaper and more relaxed than Pattaya's neon fuelled craziness and is therefore more popular with local farang expats and Russian families. However, there is still allot of fun to be had, it's just a different vibe. The action mainly centres around four main areas:-
The Rompho Market Complex has around 60 or so bars in one complex and can be good fun for a night of open air bar hopping - The Bocabar is the pick of the bunch and the only decent late night bar in Jomtien that really gets going after midnight with 3 quality Brunswick pool tables and great music.
The Jomtien Complex is Jomtien's gay area but is very relaxed and not in your face, it's actually a pretty good place for couples, has it's very own Ladyboy cabaret (the Venue) and plenty of good bars to relax in. Fantasy bar is worth a look as it's selection of alcohol is bordering on epic, despite its name it's nothing to do with the gay scene there.
The road leading up from the beach from the main Pattaya to Jomtien road (Jomtien Second Road/Thappraya Road) has several good bars and restaurants with Shenanigans Irish Pub and Country Club being the pick of the bunch - Country Road and The Flying Dolphin are also decent bars for single guys.
Jomtien Beach Road is more hotel orientated and now pretty much dominated by budget Russian tourists - however their idea of a good night out tends to revolve around buying a bottle of Vodka and taking it back to the hotel room. In fact they rarely speak any English so contact with them tends to be limited to sitting in Baht buses with them, so there is very little interaction with them and almost zero problems.
Jomtien has some excellent restaurants with more opening all the time. For perfectly cooked international food try the small but excellent Voodoo restaurant in the Rompho Market Complex, their burgers and fish and chips are exceptional. Shenanigan's is very popular and always good quality, its large central bar also makes it ideal for singles to go and eat before heading out to the bars.
Natan's French restaurant is good, as is Café Des Amis. News Café and Linda's are popular Scandinavian options and well worth a visit, just up the road from them is Bruno's restaurant that is expensive but also very good.
Seafood wise you can't go too far wrong with the seafood restaurants at the southern end of Jomtien beach, these get packed with Thai's on the Weekend and the service is so so but the overall dining experience is good.
If you fancy something a bit different Bali Breeze is a good Indonesian restaurant on Jomtien Second Road - it's well laid out and the food and service are generally excellent.
These are only a very small sample of the restaurant options in Jomtien - it's an area with an abundance of great restaurants at sensible prices that generally feel more relaxed than their competitors in Pattaya.
Jomtien is well geared up for holiday makers with plenty to do for singles, couples and families.
Pattaya Kart on Thepprasit Road has Pattaya's largest open air go-karting circuit as well as and off road track and 60 metre bungee jump. This circuit is pretty full on and not for the faint hearted although they do also have a starter circuit to get warmed up on if it's your first time.
The Lakeland Water Cable Ski is a lot of fun you're in good shape, it can be quite full on though as things tend to happen quite quickly and again not for the faint heated.
Jomtien fishing park is packed full of small adult Mekong Catfish and if you like reeling in big stuff then it can be fun for a couple of hours - be prepared for lots of Russian tourists in Speedos for company though. Pattaya fishing park in Na Jomtien has a better stretch of water with much bigger fish up to 65kg, but here you can expect to share your swim with flea ridden dogs as well as the ever present Russian speedo brigade. Amazon fishing park is further out but has a much better range of fish to catch and is allot cleaner than the other two options, but the price is way over the top for what you get.
Underwater World on Sukhumvit is worth a visit but not really up to the standard of a lot of aquariums throughout the World, it's quite well laid out though and the kids will probably enjoy it for a couple of hours.
And if these all sound like hard work - there's always Jomtien beach for some serious Speedo watching…!
Jomtien is packed full of accommodation to suit all budgets. The cheapest options are the guesthouses coming up from off Jomtien Beach Road, these are normally converted shop houses with some sort of bar or restaurant on the ground floor and room above. These tend to be run by long term expats as opposed to Thai's but often the Thai wife is the visible face of the business. Good options in Jomtien include The Jomtien-Morningstar Guesthouse and the Casaviva Inn - both offer exceptionally clean rooms at value for money prices.
Mid-range options start at around 1500 baht and go up to around 4000 baht in Jomtien. Allot of hotels in the area have been there a while and are showing their age now, these hotels tend to cater to the package tour crowd and are rarely amongst the best places to stay. One place we are very familiar with and feel offers excellent value for money is the Grand Residence on Jomtien Second Road (Sai Song), itŐs pretty much brand new and the rooms are done to a good, modern standard. Prices start around 1500 baht and go up on the weekends, it gets full up quite quickly so early reservations are normally needed. View Talay Residence is also good value for money, the room s are much older than the Grand Residence but theyŐre also much bigger - the onsite gym is also very good.
Top end wise the Sheraton Pattaya in Pratumnak is easily the nicest hotel in the South Pattaya/Jomtien area with rooms starting at about 4000 baht per night. The Royal Cliff next to it is also good but showing signs of age nowadays, but is still regarded as one of the better hotels in the area.
Real estate in Jomtien can be divided into two main sections, condos and houses on gated housing estates (Moobans).
The best of the housing developments in Jomtien in terms of privacy and luxury is probably Jomtien Park Villas although there have been a lot of reports of below par management of the estate. View Talay Villas are also nice but the plot sizes are smaller and more of the houses are rented to holiday makers so the potential for noise is greater.
Condo wise there are literally too many to begin cover here with a huge range of styles and prices ranges available. Small studio new builds start at under 1 million baht and can go up into the tens of millions for the high end penthouses on the beach. The areas around Jomtien Second Road (Sai Song) and Chaipruek Road coming up from Jomtien Beach Road are currently the areas with most condo development - it seems like a new one is launched every month or so!
If you are looking to rent or buy in the Jomtien area we recommend the Anaakot Group on Chaipruek Road in Jomtien - these guys are professional and know the area very well.